Go ZIKA Go: Early powered mobility helping to improve the lives of children with Congenital Zika Syndrome in Brazil – a pilot study
The Go ZIKA Go (GZG) project has emerged as a context-based intervention proposal to improve the activity and participation levels of children with Congenital Zika Syndrome (CZS). More than five years after the Zika virus outbreak, the current status published by the Ministry of Health (MS) Epidemiologic Bulletin (November 2020) records 3,563 confirmed cases of CZS, with the highest concentration in the North-eastern states of Brazil. Most children with CZS have severe motor and cognitive impairment, as evidenced in recent publications. For the first three years, rehabilitation efforts were focused on early stimulation programs, as recommended by the MS. As children grow up, efforts are needed to propose evidence-based interventions to improve their wellbeing and maximize opportunities to develop.
Using the same classification criteria for gross motor function for cerebral palsy (CP), children with CZS are typically reported as being between levels IV and V of the Gross Motor Function Classification System (GMFCS). Therefore, the focus of rehabilitation for children with CZS needs to be modified and focused on all domains of the International Classification of Functioning, Disability, and Health (ICF) and not just body functions and structures, as recently proposed.
Powered mobility emerges as a promising strategy to enable the mobility of severely affected children. Research from developed countries has demonstrated that infants and children with disabilities can start using electric toy cars from 9 months of age, with positive results in social skills, activities and participation, enjoyment, autonomy and self-confidence.
With the objective of designing an intervention with provision of modified, off-the-shelf, battery-operated, low-cost, portable, and child-friendly motorised toy cars, researchers from two Brazilian public universities, the Federal University of Rio Grande do Norte - UFRN-FACISA (Egmar Longo and Klayton Galante), and the University of São Carlos - UFSCAR (Ana Carolina de Campos) contacted Professor Samuel Logan at the University of Oregon - United States to partner in Go ZIKA Go, as he has been working on this intervention for some years and has contributed to the implementation of motorized toy cars in other countries.
The pilot study - Go ZIKA Go - will be funded by REDe Brazil and will account for the first 5 cars for children with SCZ in rehabilitation follow-up at the UFRN-FACISA Physiotherapy Clinical School, located in Santa Cruz - Rio Grande do Norte. The research group has been meeting regularly by video conference to design all the steps of the project, from toy car adaptation workshops to the children's mobility training at home. Recently, the group has published the feasibility protocol as illustrated below.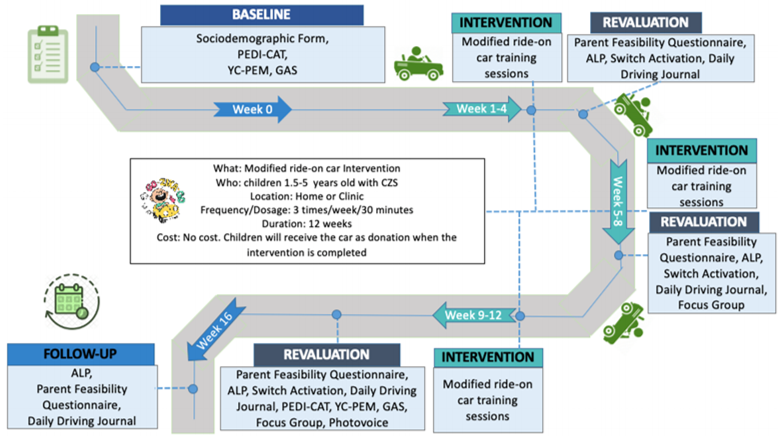 Originally published at Int J Environ Res Public Health. 2020 Sep 21;17(18):6875. doi: 10.3390/ijerph17186875. Go Zika Go: A Feasibility Protocol of a Modified Ride-on Car Intervention for Children with Congenital Zika Syndrome in Brazil.
Go ZIKA Go Workshop documentary video
To turn on subtitles: press play > then click on subtitles/captions 'cc' button.
To translate to another language, click on settings > Subtitles > 'auto-translate' > Select your preferred language.
---
Workshop Go Zika Go Workshop (11th -13th August 2021): Resources
The Go Zika Go Workshop, held last August, provided moments of immense learning. It was attended by researchers from the United States, Canada, and Sweden that, together with professionals and researchers from Brazil, contributed to the training of rehabilitation professionals who attended the workshop. The interdisciplinary team's effort was focused on finding the best solutions for cars adaptations to start the implementation of motorized mobility for children with Zika or other disabilities. Propesq-UFRN and REDE Brazil financed the Workshop and the purchase of the first motorized toy cars.
---
If you want to know more about the project, get in touch
---
Go ZIKA Go Team
Profa. Dra. Egmar Longo, PT, PhD (UFRN – FACISA) – Principal Investigator
Profa. Dra. Ana Carolina de Campos, PT, PhD (UFSCAR)
Prof. Dr. Klayton Galante, PT, PhD (UFRN – FACISA)

International colaborators:
Sam Logan, PhD (Assistant Professor - Oregon State University-USA)
Michele Dischino (Central Connecticut State University-USA)
National colaborators:
Beatriz Vieira (Physiotherapist – Nossa Casa)
Marina Junqueira (Physiotherapist – Nossa Casa)
Profa. Dra. Karolinne Monteiro (UFRN – FACISA)
Prof. Ms. Gentil Fonseca (UFRN – FACISA)
Ms. Dayse Aleixo (Physiotherapist - Clínica Escola da UFRN – FACISA)
Carol Corsi (Postdoc – UFSCAR)
Leonardo Duarte de Albuquerque (Engenharia Elétrica e Eletrônica IFRN - Santa Cuz)
Vinicius Carvalho Pinto (Engenharia Mecânica IFRN - Santa Cuz)
Students:
Jean Felix (MSc student - Rehabilitation Sciences UFRN – FACISA)
Dinara Laiana Nascimento (MSc student - Rehabilitation Sciences UFRN – FACISA)
Amanda Spínola (MSc student - Rehabilitation Sciences Programme UFRN – FACISA)
Monique Leite (MSc student - Collective Health Programme UFRN – FACISA)
Julianne Machado (Physiotherapy undergaduate student UFRN – FACISA)
Thayna Santos (Physiotherapy undergaduate student – FACISA)